SURFACE STRESS SENSITIVE FILM
Shear Stress Sensitive Film (S3F) is an elastic polymer film embedded with a fluorescent dye and coated with surface markers. The film is illuminated with an LED light source to excite the dye and surface markers. The surface is imaged with a scientific camera to monitor deformation of the layer due to shear and normal forces. The film is imaged unloaded and then loaded to compare the difference in normal force and shear. Shear is measured by tracking the movement of the surface markers within the film (of known shear modulus and thickness) resulting from an applied tangential load. The technique is similar to PIV for shear measurements for particle tracking. Upon removal of the load, the film returns to its original form.

Normal forces are measured by the differing fluorescent dye concentrations (intensity levels) due to normal force loading where pressure gradients are produced. As the film is loaded, it deforms locally and therefore less dye is present in that area. The film cannot be used to measure changes in static pressure, only pressure gradients, which means it is insensitive to static pressure changes. Therefore, the film experiences minimal crosstalk between shear and normal force measurements.

Applications for S3F range from insect locomotion to biomedical analysis of the human gait to automobile and aircraft tire rollover and even hydrodynamic applications. They polymer layer can be tuned to a specific shear modulus to allow the sensor to operate over specific ranges depending on the application.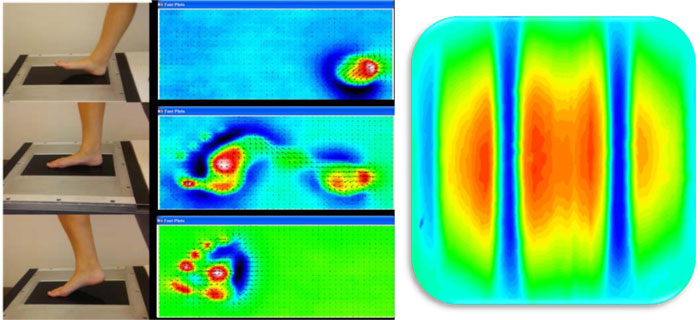 FootSTEPS Gait Analysis Sensor System (Left), Aircraft Tire Footprint from Aircraft Tire S3F System (Right)