LARGE-SCALE COMMERCIAL PSP/TSP SYSTEMS
The distinction from the small-scale system is the level of integration and number of components. Large-scale PSP/TSP systems have been deployed in many transonic and low-speed wind tunnels around the world.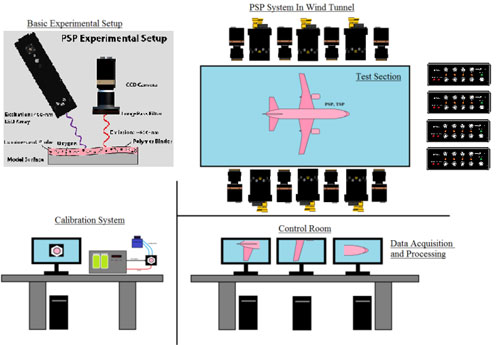 A large-scale production test typically will involve multiple cameras and lamps to capture the entire surface of the model. The images from each camera are stored on a master PC for post-processing. The individual images are then stitched together to create the entire model surface. Systems such as this are integrated into the tunnel and move with the model as it changes yaw or angle of attack.
Components May Include Multiples of:
PSP-CCD-C/M Color CCD Camera
2-inch air-cooled LED for radiometric PSP/TSP
4-inch air-cooled LED for radiometric PSP/TSP
2-inch water-cooled LED for radiometric PSP/TSP
3-inch vortex-cooled LED for radiometric PSP/TSP
PSG-3 Pulse/delay generator
PSP-K Pressure and Temperature Sensitive Paint starter kit
OP-K Optical kit with lenses and appropriate long-pass filters for PSP/TSP
SYS-BOX containing PSP/TSP acquisition hardware
LC-1S Ethernet based lens controller for remote focus zoom lens (large facilities)
LC-2 Ethernet based lens controller for EF/EF-S lenses
Full OMS post-processing software package
Multi-camera control acquisition software