MANIFOLD MOLECULAR IODINE CELL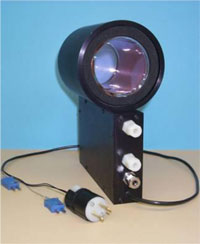 Product ID: I2M-5, I2M-10
To create a sealed starved cell with a flexible set point, a glass cell with an attached cold-finger and vacuum port is constructed. The vacuum port and cold-finger include stopcocks. The cell is evacuated and cold-finger filled with Iodine is brought to the desired vapor pressure (cold-finger operating temperature). The stem between the cold-finger and cell is then closed by closing the stopcock, isolating the Iodine in the cell body and fixing the number density. The cell is then operated 10-20 °C above the cold-finger set temperature and the Iodine in the cell is a super-heated vapor with a set number density. The result is a molecular cell with a very stable absorption spectra.

Iodine-vapor cells with a manifold are 3-in.-dia, 5-in.-long or 10-in.-long Pyrex cells. Standard cells are manufactured with 1/4 gm of iodine (actual pressure determined by temperature of water cooling jacket at the time of operation). In addition, transitions can be pressure broadened with buffer gas supplied by user through a fill-port.
Standard Manifold Unit Includes:
1. Pyrex cell with optical-grade Pyrex windows.
2. Anodized-aluminum housing with 1/4 -20 mounting holes.
3. Water-jacketed iodine reservoir with Teflon valve.
4. Evacuation/fill port with Teflon valve.
5. Cell-heating mat, manifold-heating mat, and two type-K (or user-specified) thermocouples.
6. Two 1/4 -in.-tubing fittings for connection to temperature-controlled water source (user supplied).
7. One 1/4 -in.-tubing fitting for evacuation and buffer-gas (user supplied) filling.
8. Insulation to limit heat transfer to aluminum housing.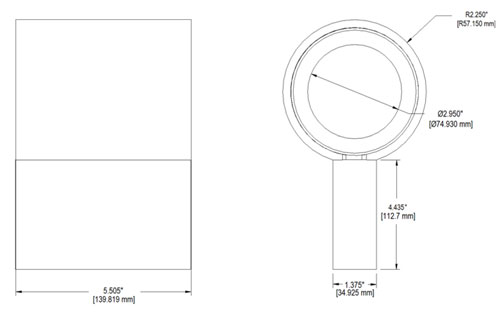 SPECIFICATIONS FOR I2M-5 & I2M-10
| | |
| --- | --- |
| Length | 125mm, 250mm |
| Diameter | 76mm |
| Housing | Anodized Aluminum |
| Mounting | ¼"-20 Threaded |
| Maximum Operating Temperature | 130 ˚C |
| Thermocouple | Type T |
| Set Point | 30 ˚C – 50 ˚C |
| Warranty | 1 year |
| ECCN | EAR99 |