SINGLE LUMINOPHORE PRESSURE SENSITIVE PAINT
UNICOAT PRESSURE SENSITIVE PAINT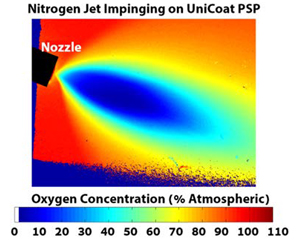 (Product ID: UNC-12)
UniCoat is a single-luminophore pressure sensitive paint (PSP) packaged in an aerosol can for ease of application. UniCoat has slightly higher temperature sensitivity and slightly lower pressure sensitivity than UniFIB PSP, but is a simple shake and spray application at a lower cost than other products and is ideal for academic purposes. This single coat application paint may be applied directly to most materials. UniCoat is an effective quantitative PSP well suited for isothermal environments (large metal models and temperature controlled tunnels) or where strong pressure variations are present (transonic and supersonic flows). UniCoat is recommended for introductory PSP users who seek an inexpensive paint for the purpose of developing their PSP capabilities.
UNICOAT PRESSURE SENSITIVE PAINT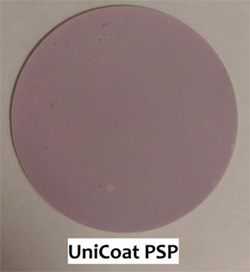 | | |
| --- | --- |
| Pressure sensitivity | 0.5% per kPa |
| Pressure range | 1-kPa to 200-kPa |
| Temperature sensitivity | 1.3% per °C |
| Temperature range | -10°C to 60°C |
| Response time | 750 ms |
| Excitation | 380-nm to 520-nm (400-nm ideal) |
| Emission | 620-nm to 750-nm |
| Photo-degradation rate | 1% per hour (Excitation) |
| Shelf life | 12-months |
| Filter | 610-nm |
| ECCN | EAR99 |
Available Quantities: 12-oz aerosol spray can

Calibration

Spectral Response
UniFIB® Pressure sensitive paint
(Product ID: UF-XXX)
UniFIB® is a bright single-luminophore pressure sensitive paint (PSP) formulated to be applied with paint spraying equipment as a single component PSP optimized for maximum luminescent signal while maintaining high pressure sensitivity and low temperature sensitivity. This paint formulation may be excited effectively from 370-nm to 520-nm, however, 400-nm radiation from ISSI LED modules is recommended. The paint may be applied to most materials, though models constructed of materials that may be attacked by solvents, such as plastic or rapid prototyping resins, should be coated with a base coat such as SCR-100 (Screen layer) or FB (FIB basecoat). The calibration of UniFIB® is very stable and repeatable thus UniFIB® is recommended for advanced/professional PSP users who seek high-quality data up to transonic flow conditions.
SPECIFICATIONS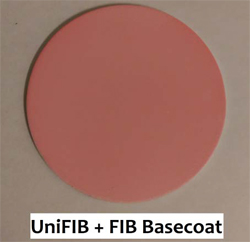 | | |
| --- | --- |
| Pressure sensitivity | 0.8% per kPa |
| Pressure range | 0-kPa to 200-kPa |
| Temperature sensitivity | 0.4% per °C |
| Temperature range | 0°C to 50°C |
| Response time | 300 ms |
| Excitation | 380-nm to 520-nm (400-nm ideal) |
| Emission | 620-nm to 750-nm |
| Photo-degradation rate | 1% per hour (Excitation) |
| Shelf life | 12-months |
| Filter | 610-nm |
| ECCN | EAR99 |
Available quantities: 200-, 400-, 750-ml

Calibration

Spectral Response