PARABOLIC REFLECTOR & DIFFUSER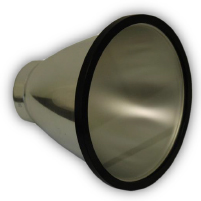 Product ID: LM2X-10R40-D
The LED reflector and diffuser is a 10-degree reflector for concentration of output light from an LM2 LED. The intensity output on the illuminated surface is 2-3 times greater in the focused area when using the reflector. The diffuser creates a more uniform Gaussian light distribution and reduces the structure pattern of the individual LEDs. The overall length is 4.75-inches (120.65 mm) and diameter of the diffuser section is 5-inches (127 mm).

The reflector screws onto the front of any 2-inch ISSI LED (LM2 Series). Remove the retaining ring on the front of the LED but be sure to leave the filter glass on the LED.

ECCN is EAR99.