Where water-cooling is not an option, ISSI's Vortex-Cooled LEDs are the answer. New in 2018, these LEDs maximize performance without the use of water for simpler system integration into your test facility. The LEDs use a Ranque-Hilsch vortex tube device to provide cool air to the LEDs. Clean and dry compressed air must be available to operate the vortex cooling system.

The vortex-cooled LEDs offer more power than any other ISSI LEDs currently available. Stronger, next-generation LEDs are used in the vortex-cooled system to provide increased performance. Each LED head can output 20W in optical power at 400-nm.

Each control box can also do more than their predecessors. The vortex cooling system in each control is capable of cooling two LEDs, minimizing components and maximizing performance. With a complete system, 40W in total output power can be achieved. The control boxes are conveniently rack-mountable for standard 3U rack size. Two control boxes can be mounted side-by-side in a standard 19-inch rack.

Vortex-Cooled LEDs Set Up for a Fast PSP Test
CONTINUOUS 3-INCH VORTEX-COOLED LED LIGHT SOURCE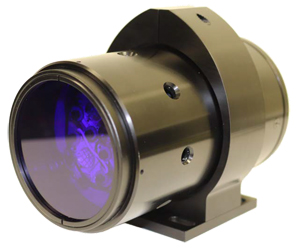 Product ID: LM3X-XXX, DC3X, UM3X-XX
The LM3X is a high-power, air-cooled, rack-mountable, 3-inch LED light source that provides uniform, stable illumination for pressure and Temperature Sensitive paint measurements. The unit offers a significant increase in power over the previous generation products (3-4 times that of a single LM2XX head). Its small form factor and large optical power density make it a class leading solution for large scale testing and installations. The LM3X has been designed to operate safely in a pulsed or continuous DC operation. It requires no external chiller, only standard shop air for operation.
The DC3X control box can operate and cool two LM3X LED modules via umbilical which deliver power and cooled air. The control box is rack mountable with the included rack ears.

Ordering information: LM3X-XXX (LED head, –XXX denotes wavelength). DC3X (Overdriven control box and driver with power supply). UM3X-XX umbilical control and cooling cable. –XX denotes length. 10-, 20- and 30-ft available.

SPECIFICATIONS
| | |
| --- | --- |
| Input Power | 100-240 V, 50-60Hz, 8.2A |
| Optical Output Power | 14-15 W per Emitter (28-30 W Total) |
| Wavelengths | 400-, 460-nm (standard) |
| Operating Temperature | 2-50 ˚C |
| Required Supply Air | 60 scfm (1,700 lpm) @ 90 psi (Dry) |
| Air Inlet | ¼" NPTF |
| Noise Level | 82 dB |
| Length x Width x Height (Drive Assembly) | 8.4" x 12.5" x 5.5" (213 mm x 317 mm x 139 mm) |
| Weight (Drive Assembly) | 12.5 lbs. |
| Rack Height | 3U |
| Length (LED Emitter) | 6.5" |
| Diameter (LED Emitter) | 3.5" |
| Weight (LED Emitter) | 2.5 lbs. |
| Umbilical Length | 10 ft. (standard) (20- and 30-ft available) |