Innovative Scientific Solutions Incorporated (ISSI)
Founded in 1995, Innovative Scientific Solutions Incorporated (ISSI) is an engineering research and development company providing Innovative measurement and instrumentation solutions in the areas of Fluid Dynamics, Aerodynamics, Combustion Analysis, Pressure Sensitive Paint, Temperature Sensitive Paint, Shear Stress Sensors, timing and control devices and lens control devices. ISSI supports DoD, NASA, National Institutes of Health (NIH), and other federal customers, as well as U.S. industry and academic laboratories. We work with government and industry laboratories in Europe, Asia, and South America, as well as academic organizations worldwide.

We have the expertise and experience to develop and apply advanced optical diagnostic techniques and to produce specialized instrumentation to support these technologies. We are often called upon to acquire data for the extension and validation of Computational Fluid Dynamics (CFD) models. ISSI provides on-site personnel to augment customer-led research teams. We conduct independent research in our 15,000 sq. ft. campus facilities. In addition to optical, chemistry, wind tunnel, and electronics laboratories, we have a dedicated prototyping machine shop and electronic design and fabrication facilities.
Pressure Sensitive Paint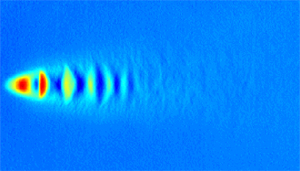 Pressure sensitive paint, unlike pressure taps and transducers, provides virtually limitless spatial resolution and can be easily applied and removed from most test surfaces. Moreover, the optical sampling provides a means for low-cost, non-intrusive, full-field surface pressure and temperature measurements very early in the design cycle to enhance extensively the understanding of the aerodynamics underlying force and moment data.

The accurate determination of spatially continuous pressure and temperature distributions on aerodynamic test surfaces is critical for understanding complex-flow mechanisms and for comparison with computational-fluid-dynamics models. Conventional pressure measurements are based on pressure taps and electronically scanned transducers. Although these approaches provide accurate pressure information, several drawbacks exist.

Pressure taps provide information only at discrete points, and their integration on a test surface is time-consuming, labor intensive, and expensive. In addition, the test-surface aerodynamics and structural dynamics can be compromised by these devices because they may introduce system bias. Finally, pressure taps are prone to failure, particularly for turbomachinery or extreme-temperature applications.

Pressure-sensitive paint technology has emerged as an alternative in determining static and transient surface-pressure fields for aerodynamic applications. In this approach, pressure sensitivity is based on molecular-oxygen (O2) quenching of luminescent molecules dispersed in a film that is coated onto a test surface. Under the appropriate excitation, the entrapped probe species luminesces with an intensity that is inversely proportional to the O2 partial pressure. Because O2 is a constant fraction of air, this method can be used to determine the local surface pressure.
Shear Stress Sensors
A Shear Stress Sensitive Film (S3F) is an elastic polymer film embedded with a fluorescent dye and coated with surface markers. The film is illuminated with an LED light source to excite the dye and surface markers. The surface is imaged with a scientific camera to monitor deformation of the layer due to shear and normal forces. The film is imaged unloaded and then loaded to compare the difference in normal force and shear. Shear is measured by tracking the movement of the surface markers within the film (of known shear modulus and thickness) resulting from an applied tangential load.

Normal forces are measured by the differing fluorescent dye concentrations (intensity levels) due to normal force loading where pressure gradients are produced. As the film is loaded, it deforms locally and therefore less dye is present in that area. The film cannot be used to measure changes in static pressure, only pressure gradients, which means it is insensitive to static pressure changes.

ISSI's FootSTEPS system for gait analysis uses S3F technology to make measurments of shear and pressure on the human foot.
Lens Control
ISSI develops solutions for lens control for CCTV lenses, and EF lenses, including Canon®, Tamron® and Sigma®. Using a high quality EF lens is a necessity in any vision application. Controlling the lens doesn't require a specific camera to be connected. The ISSI Canon EF lens controller allows operatiof of an EF lens on any camera. Control of a lens is necessary for many applications including:
Machine Vision Systems
Aerial Surveillance Systems
Sorting Systems
Inspection Systems
Event Monitoring Systems
Video Production
Astrophotography and Astronomy
ISSI offers complete solutions for lens control and can customize our products to fit customer needs. All ISSI hardware is made in our machine shop where we can design and manufacture a solution for our customers.
Our Markets and Customers
ISSI's current and previous customers include the following government, industry, and academic leaders. We look forward to adding you to this list or partnering with you to provide enhanced services to your customers.
Air Force Research Laboratory
Applied Research Laboratory Penn State Univ.
National Aeronautics and Space Administration
Office of Naval Research
Air Force Office of Scientific Research
Defense Advanced Research Projects Agency
National Institutes of Health
U.S. Air Force Arnold Engineering Development Center
46th Test Wing Landing Gear Test Facility
Pratt and Whitney
General Electric Aircraft Engines
Boeing
Systems Applications International
Honeywell
UK Aircraft Research Association
Japan Aerospace Exploration Agency
Mitsubishi International Corporation
CIRA - Italian Aerospace Research Centre
NRC-CNRC – National Research Council Canada
ISL - The French-German Research Institute of Saint-Louis
DNW German-Dutch Wind Tunnels
CTA - Brazilian General-Command for Aerospace Technology
South Korea Agency for Defense Development
KARI - Korea Aerospace Research Institute
Numerous U.S. , European, and Far Eastern Universities
Ford Motor Company
Core Advantage
ISSI is a small business with exceptional technical expertise and the ability to quickly respond to dynamic customer needs. We maintain highly competitive direct cost and overhead rates while providing an excellent work environment and benefits to our employees. We have a compressed management structure allowing direct employee and customer access to company senior leaders.

Give us a problem and we will develop your solution -- beginning with proven scientific principles and proceeding to -- engineering research – measurement validation -- instrumentation design --fabrication -- market introduction -- and sales and service, all using in-house resources. A key factor is our main campus facility that includes 15,000 sq. ft. of optical, chemistry, wind tunnel, and electronics laboratories, a dedicated prototyping machine shop, as well as electronic design and fabrication capabilities.